Daily Template: CO2 in the Context of Human History
The week of July 4th is a time for celebration—so what better way to celebrate than with a set of tools to make climate coverage easier? From the global problem of rising CO2 to the local promise of renewable energy generation, these template graphics will remain useful long after the fireworks.
WeatherPower
We're especially excited about our newly updated WeatherPower tool, unveiled at the recent AMS broadcast conference in San Diego. Here's a rundown of what the tool offers:
NEW: A graphics generator that uses your preferred data and background image to produce a customized graphic ready for TV and social media!
Estimates of local wind and solar electricity generation, based on already installed wind and solar capacity specific to your market.
Calculations for yesterday's generation based on hourly observed data.
Forecasts for today and tomorrow based on real-time weather forecasts.
Metrics for the percent of local homes powered by renewables, and the percent of daily electricity costs saved by those with solar on their roofs.
Power Indices that rank each day's solar or wind potential on a 0-10 scale.
See past releases on the rapid growth of renewables, the jobs and communities served, and maps of potential capacity for wind and solar power.
Title: JPG • PNG • GIF • MP4
No title: JPG • PNG • MP4
CO2
As some meteorologists start to include CO2 concentrations in their forecasts, we want to support you with tools to help put those daily numbers into context: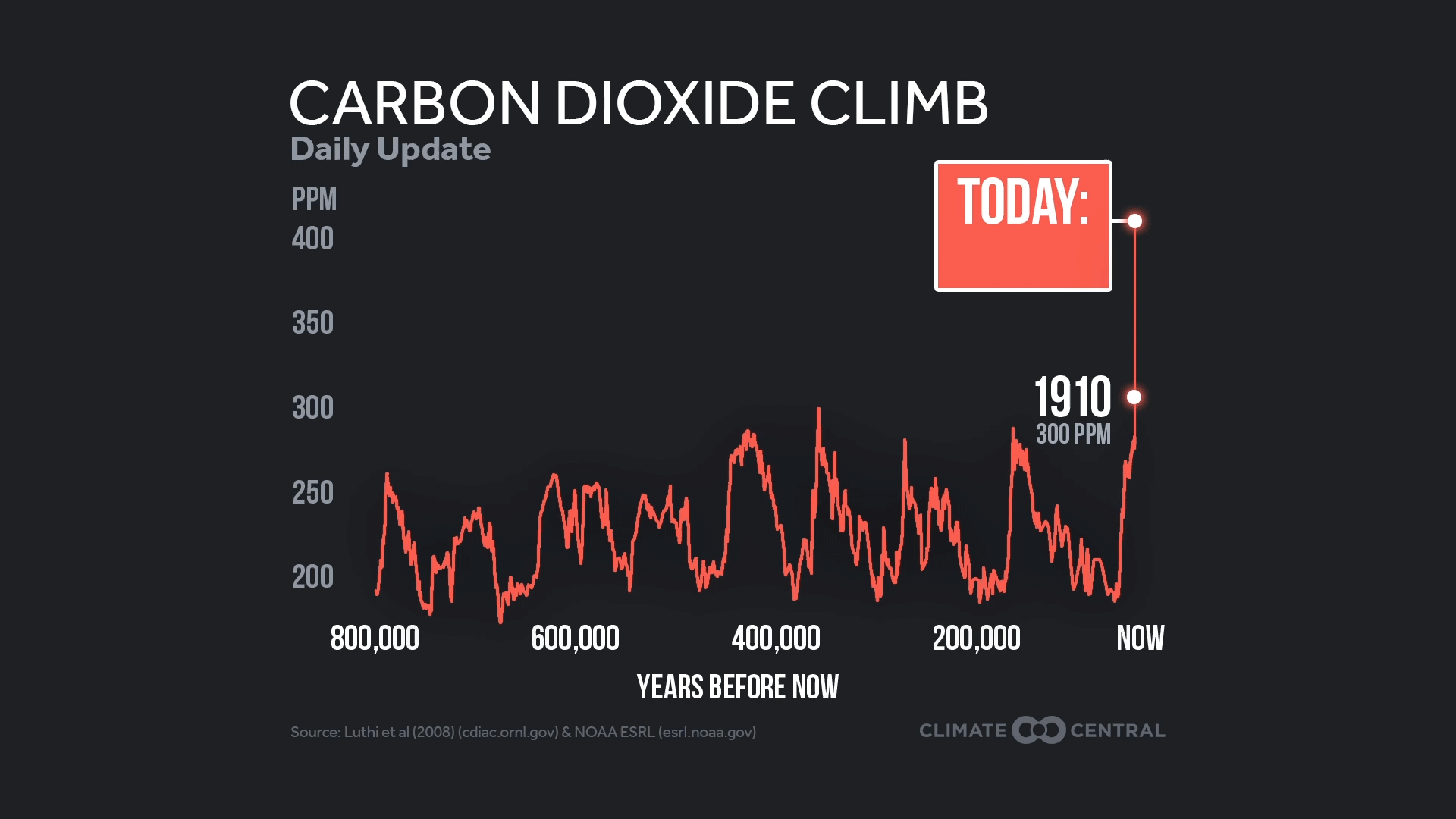 Title: JPG • PNG • GIF • MP4-Dot • MP4-Line
No title: JPG • PNG • MP4-Dot • MP4-Line
Happy Birthday USA!
July 4th is often a time for extreme heat, which is getting more intense as humans add greenhouse gases to the atmosphere. Click here to find the hottest, coolest, and wettest Independence Days on record in your city.
METHODOLOGY:
CO2 data from Mauna Loa, Hawaii is reported by NOAA's Earth System Research Laboratory Global Monitoring Division.
Local Independence Day climate extremes were retrieved from the Applied Climate Information System.