GOOD Charts American Thoughts on Climate Change
Earlier this year we wrote about how the perception of climate change in America has changed in recent years. Well, if the adage is true and a picture really is worth a thousand words, then the online magazine GOOD's new infographic, "What Americans Really Think About Climate Change," is a colorful alternative to both our post and others.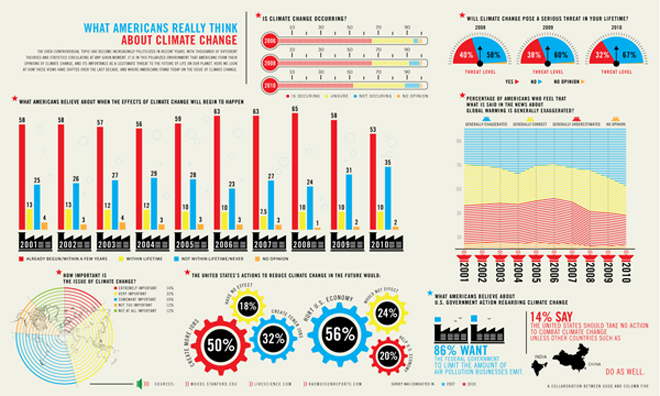 What Americans Really Think About Climate Change tells a few different stories about our opinions. What do you see? (see full size image at GOOD.is)
As far as infographics go, this one appears, at first glance, fairly straightforward and it charts how American opinions of climate change issues have changed in the past decade. The message seems to be that people are losing faith in climate change news. For example, fewer Americans today think climate change is occurring than compared to a few years ago. Another part of the graphic suggests that the majority of Americans don't think climate change is going to be a serious threat in their lifetime.
On the other hand, when you look closely at the data, a different narrative might materialize in front of you. As of 2010, for example, only about 10 percent of Americans deny climate change is occurring (though nearly 40 percent are unsure). And while the past couple years found an increasing number of people think global warming news is exaggerated, the population is still pretty evenly divided about this. In fact, a full 30 percent actually think the news is underplayed. Perhaps the most confusing piece of information is that 50 percent of Americans think government actions to reduce climate change will create more jobs, while 56 percent think that the same efforts will hurt the economy. Huh?
So what to make of this data? If nothing else, it demonstrates the fine art of surveying the public and shows us that it is, in fact, pretty tough to know what Americans think about climate change. Nevertheless, it's worth taking a look for yourself to see what your countrymen think – what you see here might just surprise you.